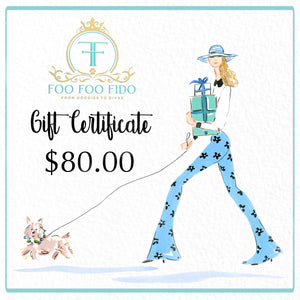 $80 Gift Certificate for Foo Foo Fido
Regular price $80.00 Sale
This is a listing for a Gift Certificate for $80.00 for any Foo Foo Fido item
with no expiration.
You will receive a coupon code to share with a friend for a gift, or to use for yourself 
in the future!
You or your friend can shop from any of our Small Dog, Choke Free, 
Adjustable Harness Vest or Dress, or our upcoming Collar and Leash Collection.
Instructions for purchase:
We will be emailing you shortly with a coupon code for your purchase to be 
used at any time. 
When you receive it, you or your friend can shop Foo Foo Fido, 
and select the items you would like to buy with this gift certificate. 
Click the add to cart button.
Enter the code in the box that says 'Coupon Code'. 
When the gift certificate is redeemed, we may need to send a 
revised PayPal invoice to the buyer, if there is a remaining balance that needs 
to be paid on the sale.
We will send the buyer a convo to confirm the order. 
Thank you for your Gift Certificate Purchase! We are so sure that your 
friend or family member will love their Handmade design from us 
and your Foo Foo Fido gift!